An educational program for therapists sponsored by Jonah Green and Associates, LLC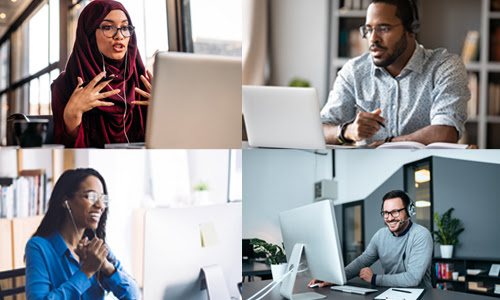 For CE or Supervision Credit
"Couple and Family Therapy Training through Role-Play" is an online, interactive educational program for therapists that teaches couples and family therapy skills through role-playing.  Couple and family training has incorporated role-play for over 50 years and is consistent with the empirically-supported systematic skill-building methods of Deliberate Practice training (https://www.dpfortherapists.com/inner-skills-intro).
This is a practical "how-to" course with a minimum of theory that offers students the opportunity to learn and practice family therapy approaches and techniques in real time. This is the fourth year of the class, so the format and curriculum has been fine-tuned with the help of extensive feedback.
Each class session consists of a didactic presentation, a discussion, and a role-play demonstration. Participants will apply the skills presented, alternating between therapist, client, and observer roles, and will be able to access class recordings and other educational materials outside of class. 
The program consists of two series, each of which grants a Certificate:
Series One: Foundational Skills in Family Therapy

(Sessions 1-16)

Series Two: Advanced Family Therapy Practice: Specialized Techniques, Populations, and Presenting Problems (sessions 17-30)
Topics will be as follows:
Series One: Foundational Skills 
Course overview/Applying person-centered listening to families

First contact: Joining, collaborating, planning

First session: Making connections, establishing a therapeutic atmosphere, gathering information

Developing a Safe and Hopeful Therapeutic Environment

Collaborative Assessment and Planning; Use-of-Self and the Therapeutic Stance

Stimulating Relational Dialogue

Reframing

Expanding perspectives, Deepening the Process, Catalyzing Change

  Enactments

Strengths and Solution-Focused Approaches 

Strengthening Sub-Systems and Supporting the Family Structure 

Cognitive-Behavioral Family Therapy

Building Collaborative Conversation with Couples

Emotion-Focused Couples and Family Therapy

Supporting and Guiding Parents

Including Children; Experiential and Play-Based Techniques
Series Two: Advanced Family Therapy Practice
Family Relationships through the Life Cycle; Genograms

Trauma-Focused Family Therapy

Couples Therapy: Best Practices

Families and Addiction

Separating and Divorcing Families

Stepfamilies

Self-Harm and Suicide

Sibling subsystems

Emerging Adults in Families

Using Mindfulness with Couples and Families

Cultural Humility; Self-Disclosure

Disability and Mental Illness

LGBTQ+ Families

Families and Termination
Participants who attend 14 sessions from the first series and 12 sessions from the second series may obtain Certificates. We offer make-up sessions throughout the year.
Classes are on Wednesdays from 9:00 AM to 10:30 AM. The first session will begin on Wednesday,  September 13, 2023, and end on Wednesday, January 3, 2024. We will skip December 27. The second session will begin on Wednesday, January 10, 2024 and end on Wednesday, April 10, 2024. 
Pricing
Each 1.5-hour class costs $50 to attend.
CE or Supervisory Credit
Participants may obtain Category 1 Credit for Continuing Education through the Maryland Board of Social Work; Category and the DC Board of Social Work. CE Credit may be available through the Maryland Board of Professional Counselors and Therapists.
Graduate-level Social Workers or Marriage and Family Therapists may be able to obtain supervisory credit toward their Clinical License.
Instructors
Jonah Green, LCSW-C  and other licensed clinicians at Jonah Green and Associates, LLC supervise and mentor students throughout both series.  Jonah is a Clinical Social Worker who obtained his Master's Degree from Boston University, and he has nearly 30 years of experience as a child and family therapist. He has trained via role-playing and live supervision at the Philadelphia Child and Family Guidance Center and the Minuchin Center, among other venues. Jonah is a Registered Social Work Supervisor and provides supervision for LMSWs.
Aron Carlson, LCSW-C, a clinical social worker and Registered Social Work Supervisor, has 16 years of experience and has expertise in working with parents, couples therapy, sex therapy, and families with emerging adults, will co-lead the class. Aron's approach helps families break through power struggles and develop relationships of greater meaning and intimacy.